I finally got around to posting, and figured I'd start a build log..
The objective for my car was to build a great handling, fun to drive street car... details are as follows:
Car Specs: 2005 WRX WRX STI
Power Goals: 550WHP on 93 pump, 600WHP on pump + water, 630WHP on e85, and 700+ WHP on Q16
Engine: Cosworth 2.5L longblock w/Cosworth Cams and Billet Crankshaft, 9.2:1 compression
Intake Manifold: Cosworth long runner
Exhaust: 3.5" turboback with APS 3.5" muffler
Turbo: Full Race Twin Scroll GT4088R, twin Tial MV-S Wastegates
Fuel System: Bosch 044 fuel pump, Aeromotive Fuel Rails, Injector Dynamice 2200CC injectors
Engine Management: Hydra EMS v2.6, with Hydramist water injection
Suspension: revalved RCE T2 coilovers, Whiteline 27mm front sway and 25mm rear sway, DMS camber plates, Cusco Titanium front and rear braces
Brakes: Brembo Gran Tourismo GT 6 piston front brakes with 14.5" rotors, stock rear Brembo 2 piston calipers with HPS race pads
Wheels: Advan RS 19x9 with 255/35/19 toyo's
Exterior Mods: WRX side skirts, v-limited lip, JDM rear spats, SYMMS adjustable carbon fiber wing
Electronics: Aim Sports MXL Pista data acquisition system
Other: STI Limited leather interior
So far, I've dyno'd 520WHP at 22.5 psi on pump gas... running out of fuel.. since then, I've upgraded my fuel system and am planning to complete my tune in search of 550WHP on pump gas and 700+ on race gas.
Thus far, my best 1/4 mile time at 24 PSI on pump gas is an 11.4 at 125.5.. almost in the 10's. This was on a 90+ degree day, full weight and on 19's. I hope to break into the tens on pump gas once the weather cools off, with about 25psi.. hoping for 9's in the 140's on race gas.. we'll see..
Pics are as follows: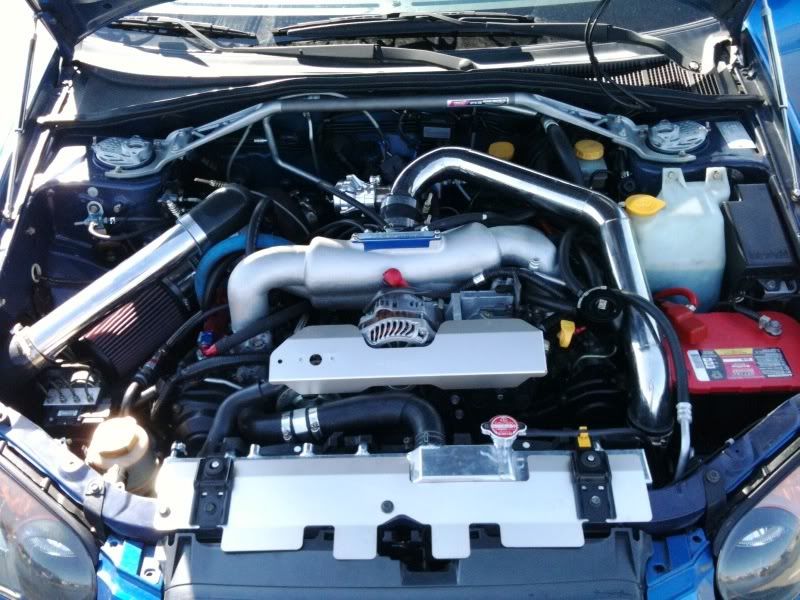 more updates to come...