This isn't anything immediate, I might not buy til' next summer... but I'm starting a search for a bike and I know next to nothing about them. So bear with my ignorance.

I plan to only use it for fun and not any sort of long-distance trips. So a sportier bike is more my flavor. Comfort is not an issue (at least in my opinion. any input on this from more seasoned riders?)
I plan on buying used (unless there is some major reason I should buy new) and nothing too insane. I've been hearing from most people a 600 would be my best choice for speed while still keeping it manageable and within reasonable realms of sanity.
As far as looks go I want something aggressive of course but I'm a fan of the naked bike look. I saw an 01 GSXR that really piqued my interest that style.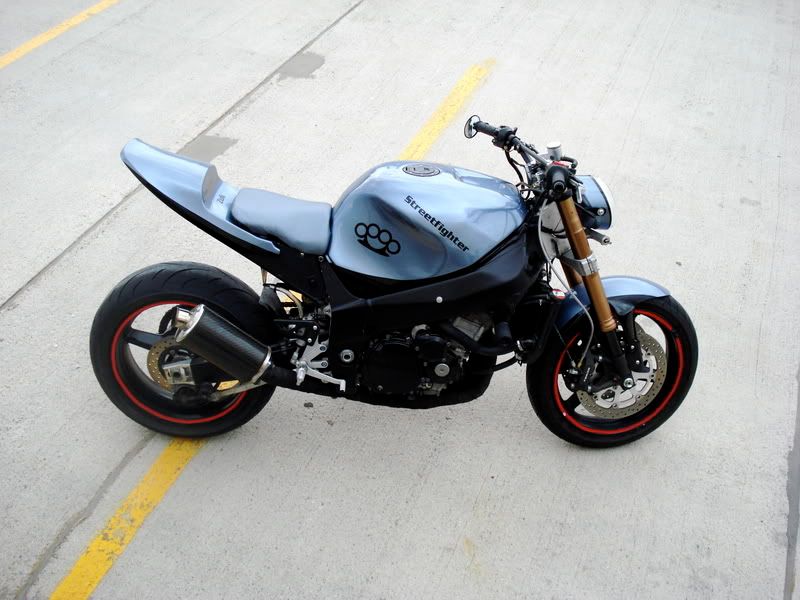 Granted there is a fair amount of effort into making it look that way since unless I am mistaken it would usually have a good deal of plastic covering up most of those bits.
The two people have told me to look at are the Suzuki GSXR600 and Yamaha R6. Just looking on a bit of input from you guys. The GC is priority one right now but once that's done I plan to move into the world of two wheels. My friends and coworkers have them so I think it's time I at least start doing the research. So something quick, decently powered but not mind-blowing, easy to ride, good looking, and fun.
Oh and this will not likely be my FIRST bike. I plan to get a very cheap slower one just so I can get the hang of it. Don't want to go ruining a nicer one while learning on it. But I do want to start to get an idea of what I should be looking for.