Local shop here in WA. Got a tour of the shop where they do the assembly.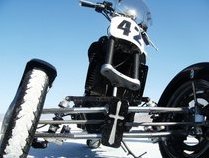 The tilting VMax they set the 3-wheeled record on is the best looking IMO, though they've mostly gotten orders for Harleys and Goldwings since then.
The standard ball-joint, a-arm, knuckles they use to keep everything linear yet tilting are pretty slick.
https://www.youtube.com/watch?v=T3TumQ-ueMU
https://www.youtube.com/watch?v=T3TumQ-ueMU
https://www.youtube.com/watch?v=9ro8_uALBo8