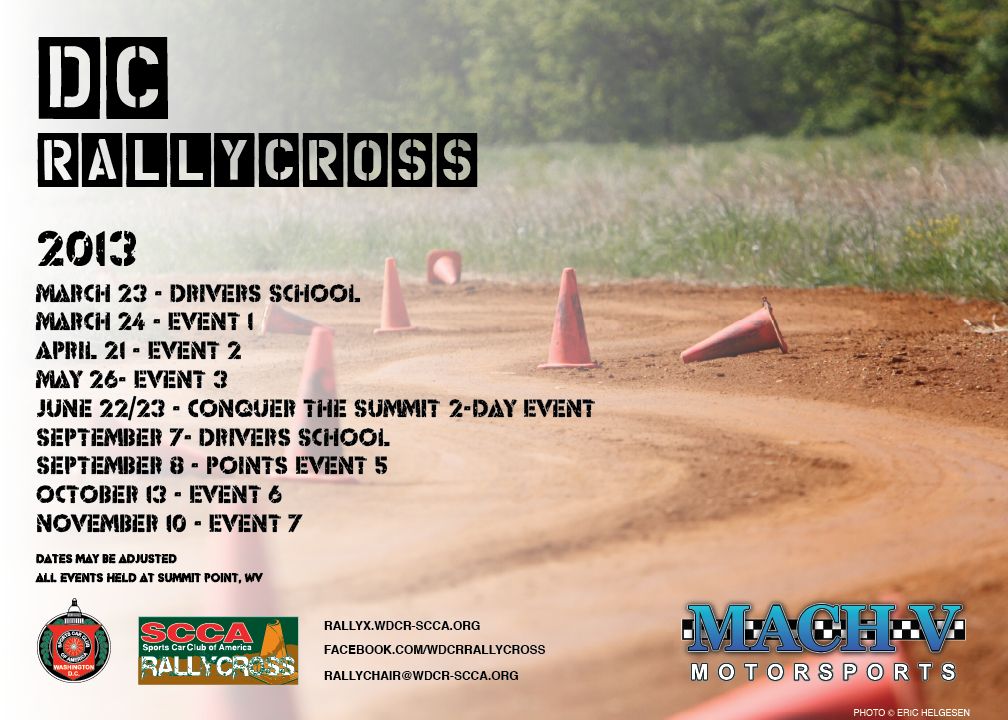 We're very excited to partner with the guys at MachV Motorsports for the 2013 season!
www.fastwrx.com
Join us for DC RallyCross this season!
What's RallyCross?
It's racing on dirt, gravel, grass, and sometimes mud on a course defined by cones. Each run you make counts towards the final results, and the conditions often change throughout the day, challenging drivers to be fast but also stay consistent.
Is this like Stage Rally or X-Games?
Kind of- but without the high risk of danger and damage. This is rally but for street cars too. RallyCross courses are designed to avoid hitting trees, flipping your car, or crashing into a ditch. There are no gap jumps, stream crossings, or cliff-sides.
Can I do this with my car?
YES. Pretty much any car at or near stock height can do it, as long as you don't mind getting it dirty. The only restriction is no SUVs, Jeeps, or "tall" pickup trucks (some compact pickups are ok – check with us). We have everything from Subarus, VWs, new and old Audis, new and old BMWs, RX-7s, MR2s, and a variety of other cars both new and old show up for events regularly.
Will my car be damaged?
Not if you drive within your's and your car's limits. Your suspension will get a workout, and your car will get dirty.
Does my car need to be modded or "set up" for rallycross?
No. Any car can run, and any car can win. You just need to hone your driving abilities. You will need a helmet. You don't need a roll cage, race seat, fire suit, or other expensive safety device. We have loaner helmets available at the events, for free.
Where is the racing?
The Washington DC Region of SCCA holds all of their RallyCross events at Summit Point Motorsports Park in Summit Point, WV. It's about an hour+ drive from DC just off Route 7.
Will there be scantily-clad car girls who will let me take pictures of them leaning against my car?
Not unless you bring them!
How do I find out more?
Feel free to come to one of our events to specate. Most drivers are happy to give ride-alongs too. Or just sign up and learn as you go. Rallycross events are laid-back where everyone is friendly and eager to chat about the sport. The season starts with a driver's school and test&tune – a perfect opportunity to learn how to drive your car off the pavement with tips and teaching by seasoned stage rally/rallycross veterans.
The schedule above is tentative – I will let you know once it is finalized. Season subscriptions will be available as well, for those who want to jump right in!
Email Adam the chair of the DC RallyCross program with any questions or comments:
rallychair@wdcr-scca.org
I (Josh) will also try to answer questions in this thread and via PM, though it might take me a couple days to reply.
Here are some useful links:
WDCR RallyCross Facebook page:
http://www.facebook.com/wdcrrallycross
Official Washington DC Region SCCA site:
http://www.rallyx.wdcr-scca.org
SCCA Rules and Classing info:
http://www.wdcr-scca.org/Default.aspx?tabid=90
Yahoo Discussion Group:
http://sports.groups.yahoo.com/group/wdcprorally/
Venue website:
http://www.summitpoint-raceway.com/
Directions to venue:
http://Washington
Dulles Airport Mar... - Google Maps
A short video about RallyCross (though this isn't our local region):
http://www.youtube.com/watch?v=snCgkF8WF8U
And some photos of last year's action: